Transform your property with the ultimate outdoor concrete flooring!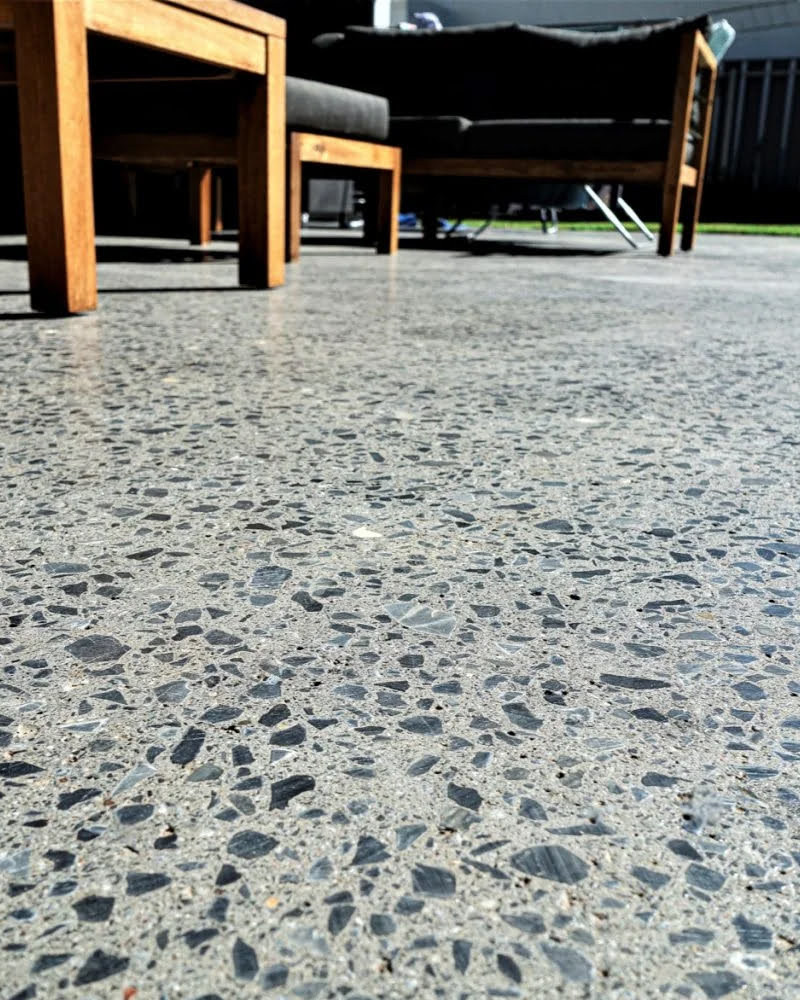 What is pavilion finish concrete?
Pavilion finish concrete is our external version of mechanically polished concrete. Designed to perfection, it provides an easy-to-clean, non-slip and contemporary finish that enhances both new and existing external concrete surfaces.
With our pavilion finish concrete, you can keep your outdoor spaces pristine, captivating and functional at all times.
How is pavilion finish concrete achieved?
Pavilion finish concrete is achieved by grinding down the concrete, revealing and then refining the aggregate that is underneath the surface. The tops of the aggregate are then machined down to be completely flat, producing a unique, permanent sheen across the surface and providing an impressive feel underfoot.
Through our specialised equipment, we create a premium outdoor surface that not only offers functionality but also exudes high visual appeal.
How do you create a permanent texture?
After the meticulous grinding process, the next crucial step is etching the surface to create a lasting texture. Etching involves the application of an acidic solution onto the concrete surface, causing a slight, controlled erosion of the concrete matrix and producing a permanent texture that significantly improves slip resistance.
The degree of texture formed through etching is also customisable, allowing you to tailor it to suit the specific needs of your outdoor area.
How do you maintain the durability of the pavilion finish concrete?
To maintain surface protection, we recommend resealing the area every 3 to 5 years, depending on the conditions and foot traffic of your outdoor space. This simple process can be easily carried out by either you or our team of experts, all within a 24-hour window.
At Bradshaw, we even use a penetrating sealer that assists with stain resistance but does not create a slippery layer on the surface to ensure your utmost safety.
How do you know if the concrete is suitable for the pavilion finish?
Existing concrete slabs must undergo a test grind to check their suitability to the desired pavilion finish.
This process involves carefully grinding a small area of concrete to obtain valuable insights for any potential issues that may arise, as well as to provide a preview of the final results that await.
In summary, the pavilion finish concrete:
Is designed for external floors
Is achieved by a mechanical process – not a product rolled on the surface
Has a permanent texture "etched" into the surface, which makes it more suitable for outdoor conditions
Has an impressive feel underfoot and is completely flat with just the right amount of grip
Is eye-catching and offers a contrast between shine and texture for a unique appearance
Is durable, hygienic and low maintenance
Is customisable – within the limitations of the concrete and its environment
Can be done to new or existing concrete floors, with a test grind being required for existing slabs
Is long-lasting – resealing every few years is a simple process and can be done by you or experts like us