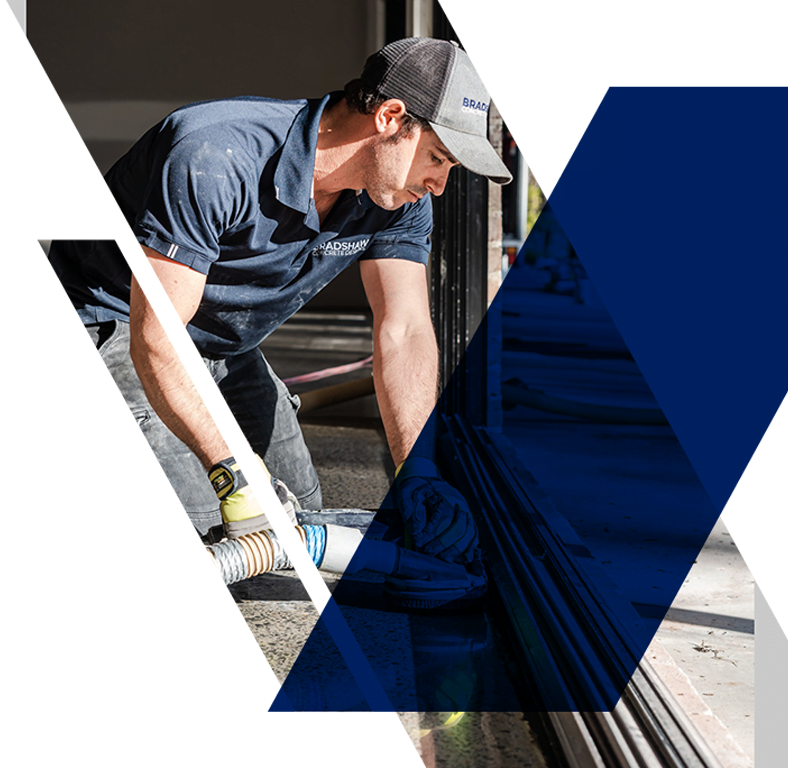 Welcome to Bradshaw Concrete Designs: Transforming Surfaces, Elevating Spaces
At Bradshaw Concrete Designs in Sydney, we specialize in premium concrete polishing and pavilion finishing services. With a commitment to excellence and a passion for craftsmanship, we transform ordinary surfaces into extraordinary works of art, enhancing the aesthetics and functionality of your residential, commercial, or industrial spaces.
Concrete Polishing & Pavilion Finish
Elevate Your Outdoor & Indoor Experience
In addition to concrete polishing, Bradshaw Concrete Designs offers pavilion finishing services to transform your outdoor spaces. Whether it's a patio, pool deck, or driveway, our pavilion finishing brings a touch of luxury to your outdoor living.
Want to know more about us?
Why Choose Bradshaw Concrete Design In Sydney?
t Bradshaw Concrete Designs, we understand the power of polished concrete to redefine and elevate spaces. Here's why you should choose us:
Expertise: Our team comprises highly skilled technicians with a deep understanding of the concrete polishing process. We approach each project with precision, turning dull, lifeless surfaces into sleek, glossy masterpieces.
State-of-the-Art Equipment: We invest in cutting-edge equipment and industry-leading techniques to ensure the highest quality results. Our commitment to staying at the forefront of technology sets us apart in delivering excellence.
Aesthetic Enhancement: Concrete polishing is more than a surface treatment; it's an art form. We bring sophistication and elegance to your space, creating reflective surfaces that brighten rooms and make them feel more spacious.
Durability: Polished concrete is renowned for its durability, resisting stains, scratches, and wear and tear. It can withstand heavy foot traffic and lasts for years with minimal maintenance.
Low Maintenance: Unlike other flooring options, polished concrete is easy to clean and maintain. Regular sweeping and occasional damp mopping are all that's needed to keep your surfaces looking pristine.
Eco-Friendly: Our commitment to sustainability shines through in our concrete polishing services. By eliminating the need for additional flooring materials, we help reduce the carbon footprint associated with floor maintenance
Latest Projects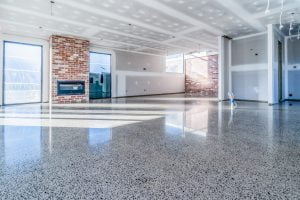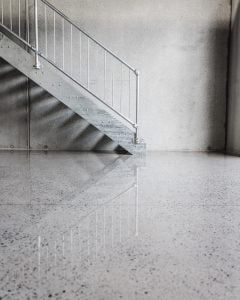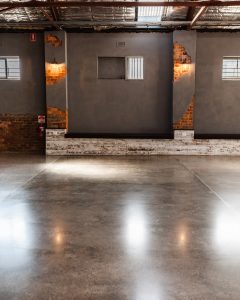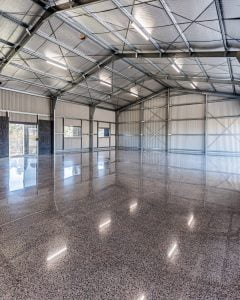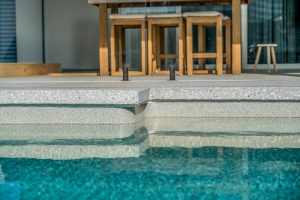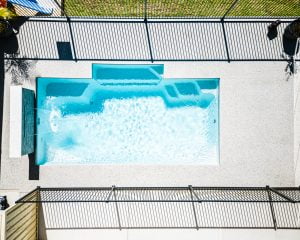 Our Concrete Polishing Process In Sydney
At Bradshaw Concrete Designs, we take a systematic approach to concrete polishing to ensure the best possible outcome. Here's a glimpse into our process:
Surface Preparation: We start by thoroughly preparing the concrete surface, which includes repairing any cracks or imperfections.
Grinding: Our team uses specialized grinding equipment to remove the top layer of the concrete, revealing the smoother, denser layer beneath.
Polishing: We progressively refine the concrete surface through a series of polishing steps, using progressively finer abrasives to achieve the desired gloss level.
Sealing: To protect and enhance the polished surface, we apply a high-quality sealer that provides additional durability and resistance to stains.
The Benifits Of Pavillion Finish
Versatility: Our pavilion finishing services are versatile and can be applied to various outdoor settings, enhancing the aesthetics and functionality of your outdoor spaces.
Customization: We understand that every outdoor space is unique. Our team works closely with you to customize pavilion finishing solutions that align with your vision and lifestyle.
Durability: Pavilion finishing not only adds visual appeal but also provides durability against the elements. It protects outdoor surfaces from weathering, ensuring longevity and minimal maintenance.
Safety: Our pavilion finishing includes options for slip-resistant surfaces, enhancing safety around pools and high-traffic outdoor areas.
Enhanced Outdoor Living: Whether it's a cozy patio or an expansive pool deck, our pavilion finishing services contribute to creating an inviting outdoor environment for relaxation and entertainment.
Your Trusted Sydney Partner
At Bradshaw Concrete Designs, we take pride in being your trusted partner for transforming surfaces and elevating spaces in Sydney. Our dedication to exceeding customer expectations, combined with our expertise and state-of-the-art equipment, ensures that every project is a stunning success.

Ready to unleash the beauty within your spaces? Contact us today for a consultation, and let's discuss how Bradshaw Concrete Designs can bring your vision to life. Whether it's the sleek elegance of polished concrete or the luxury of pavilion finishing, we have the expertise to turn your dreams into reality.
Testimonials
See what our customers have to say about us.
Excellent
5.0
★
★
★
★
★
Based on 50 reviews from
review us on
Wayne Hobden
★★★★★
Brett has done an amazing work on our new house with a polished limestone concrete floor throughout the house and alfresco area.Brett is very professional in his work and communication, explaining the processes and care of the finished concrete floor.We highly recommend Brett as he is very easy to work with and his knowledge and equipment is outstanding.Thanks again for the fantastic floor.Jo and Wayne
Evelyn Lukas
★★★★★
We engaged Brett recently to polish the concrete floor of our living area, previously covered with carpet.He shared information effectively so that we understood all functions of the work process. His customer relations was excellent.There was limited disruption to the household and the end result of the grinding/polishing is excellent. We are super happy with the work. Brett came across as a bit of a perfectionist.We have no hesitation in recommending Brett and Bradford Concrete Designs for any work of this nature.Thanks Brett.Evelyn & JohnCaves Beach NSW
Emily Gundry
★★★★★
Thank you Brett for your professional service and outstanding workmanship in grinding, polishing and sealing our alfresco and carport area. Bradshaw Concrete Designs had all the right equipment and skills to transform our large area from boring, damaged concrete to a seemless, stunning polished concrete area that is versatile, practical, easy to maintain and looks amazing! Brett took the time to answer all of our questions before and during the job and provided some great solutions. We can't recommend Brett and Bradshaw Concrete designs highly enough. Thank you!!
Professional Painting Decorating
★★★★★
For an outstanding, professional and immaculate finish, you can not go past Bradshaw Concrete Designs.Our painting company has been completing joint projects with Brett for many years now across a variety of concepts and we wouldn't be able to recommend anyone else for the quality finish that Bradshaw Concrete Designs can provide. With the high quality equipment, skill and detail Brett provides he has the versatility to cover residential and commercial projects with precision and expertise.
Accounts Department
★★★★★
I have used two other local concrete polishers in the past . I wish I had not. Bradshaw works were by far superior not only in the finish but their responsive professionalism. My storage unit floor is amazing unlike the floor of two homes that were polished by another local provider. Will use Bradshaw's again with no hesitation ! Mark
Sally Swain
★★★★★
Brett was reliable, friendly and professional. His work was completed to a high standard. I would recommend Bradshaw Concrete Designs. We would use the company for future jobs.
Jamie Marjoribanks
★★★★★
Brett was highly professional as soon as I made contact with him. His intake process was detailed and ensured a smooth process from quote through to job completion. As part of the quote, he completed a test patch so I could see how the floors would look when finished, which I really appreciated. I adore how my floors have turned out and highly recommend Bradshaw Concrete Designs to anyone considering polished concrete flooring.
Hernus Carelsen
★★★★★
Brett's a great guy, very well organised, easy to deal with, and proper equipment.
Danuta Raine
★★★★★
When we pulled up the carpet in order to lay a floating floor, we found the slab had problems we didn't expect. It was one of those things that could have really thrown out our office refit. Brett did an excellent job at a really reasonable rate, and he was able to fit in with our schedule. Brilliant.
Liz mullinar
★★★★★
I have had concrete floors grounded for sealing on a few occasions, Brett is not the cheapest around but he is the best. On time, efficient, happy to put in the extra effort to ensure the clients happiness. I totally recommend , give yourself a happy response to a job beautifully completed.
sporny d
★★★★★
I couldn't be more happier with the job Brett and his team did with bringing a decent 9 year old piece of exposed aggregate back to life. Now I can enjoy the outdoors again. 2 thumbs up!
michael park
★★★★★
Brett and his team were fantastic and very professional, not only did they do a great job on time and on budget as quoted but also completed extra works on request and even helped us get in contact with a completely unrelated trade that allowed us to complete our renovations.Can't recommend him highly enough, thanks Brett.
Kasia Connell
★★★★★
Brett demonstrated exceptional customer service, with great communication, timeliness and commitment to the job. He showed incredible care and attention to detail in polishing the concrete slab in the entrance to our home. The end result looks amazing and we couldn't be happier. Thank you!
Brad Clarence
★★★★★
Brett was very professional, promptly visited us for a test grind and had a detailed quote thru within a day or so. He gave us a full breakdown of each step of the process and completed the job on time. We were blown away by the finished results.
Slavco Gavriloski
★★★★★
Bradshaw Concrete Designs completed polished concrete floors and pavilion finish external slabs at one of our new builds. Brett was very professional and easy to coordinate the works with. The attention to detail and workmanship is second to none. Would highly recommend BCD to anyone looking for polished slabs and sound advice.
SA GO
★★★★★
Brett provided professional advice and produced a high-quality finish on our concrete pool deck. The polished concrete with a pavilion finish is a dramatic transformation from our old concrete slab. Bradshaw Concrete Designs quote was detailed, accurate and the job was completed in the exact time frame. Their helpful staff provide fast communication. Brett is confident, approachable, experienced and highly skilled in this area of expertise. The best decision we made was deciding to go ahead with the Bradshaw company. We trusted his advice, and he produced excellence. I highly recommend this to anyone; our before and after photos speak for themselves. The site was left clean and tidy at all times. Anyone thinking of resurfacing their concrete, Bradshaw Concrete Designs are the experts.
Andy Bate
★★★★★
Our new workshop floor has been transformed thanks to Brett at Bradshaw Concrete Designs. We are a mechanical workshop and were looking for a solution to help preserve the floor and to keep it safe. The grind, polish and seal was an ideal solution, its easy to maintain and looks great. Brett 's workmanship is top notch and his attention to detail and innovation for new products is what makes Bradshaw Concrete Designs a step above the rest.
Bel Brice
★★★★★
We had Bradshaw Concrete around to resurface our driveway. The service was prompt and he did a fantastic job. We will definitely use them again and 100% recommend them
Candice B
★★★★★
I was a little unsure about getting the floors polished but Brett was fantastic and patiently answered all my questions about the process, potential issue and costs. I'm so glad I went ahead – the floors look awesome.  Brett was a great communicator, reliable and professional.  I would definitely recommend him to friends.
BRADLEY DIXON
★★★★★
Brett is a perfectionist with very high attention to detail. He is a great communicator and delivered us a 170m2 polished/honed pool surround that is a work of art. We highly recommend Brett, it may cost a reasonable amount, yet the finish is well worth it.
Alison O'Connor
★★★★★
Brett at Bradshaw Convrete Designs did an amazing job with honing the concrete surrounding our pool. Brett was efficient, responsive in his communications, and his attention to detail and quality of work exceeded our expectations. We couldn't be happier. Thank you Brett!Mark and AlisonPaxton, NSW
Dean O
★★★★★
I've had Bradshaw Concrete Designs for jobs at my home twice. Driveway and back patio/ side passage.Exposed aggregate both times, about 3/4 years apart.Brett and his team did a great job both times, very professional in all dealings, efficient and trustworthy.I would recommend Bradshaw Concrete Designs to anyone looking for a concreter. Examples of passed jobs are on his website.
Vikki Green
★★★★★
Brett re- did a concrete floor in my house. From the start he was polite and prompt. Brett delivered a very beautiful finish to the concrete floor. He was dedicated to doing an excellent job and paid attention to every detail. I was totally satisfied with every aspect of his service and highly recommend him.
Richard Stock
★★★★★
Great workmanship. And very professional and helpful. Highly recommended.
lizzie Bentley
★★★★★
When I first contacted Brett he was very friendly and very knowledgeable! He made me feel confident that he knew what he was doing and to get what we intended achieved.He was very responsive to text messages and emails and made the whole process simple. Brett attended our residence the day he said and was very good with communication throughout the process.He was very thorough and careful with his work! We are extremely happy with the results of our polished concrete and will be recommending him to everyone even if they don't ask! He is THAT good!Thank you Brett for your amazing work, our outdoor area is stunning and summer ready due to your hard work.
Andrew Couper
★★★★★
Brett was a pleasure to work with and did an excellent job with our honed concrete pool surround. We had a 95% cowra white and 5% black basalt with artic concrete and Brett made it look amazing. Highly recommend!
Whendi Poole
★★★★★
Brett did a fantastic job! Our polished concrete floors are absolutely beautiful and transformed our space. He was professional, showed up when he said he would, and followed up after the job was complete to make sure we did not have any questions. We know others who have used him and had a great experience as well. Highly recommend!!!!!
Geoff Ongley
★★★★★
Brett and the team were fantastic. Super responsive, answered all of our questions, and Brett got the job done quickly. This worked perfectly for our timeframe to move in to our new premises.Even better, the most important part of course, the floor itself looks phenomenal. It has totally transformed the space. I would highly recommend Brett and Bradshaw Concrete Designs if you too are looking for a hard wearing concrete floor, that also looks professional and stunning!Absolutely no regrets, and totally worth it.
Sarah Murray
★★★★★
Bradshaw Concrete Design did an excellent job polishing the concrete on our terrace and pool surround, it looks fabulous!Brett was a gentleman and a pleasure to have working at our home.
Lori Uden
★★★★★
Brett and his team are professional, friendly, helpful and have excellent attention to detail. We could be happier with the job they did concreting around our new pool, complete with a counter lever finish. Thanks so much!
Reece Juergens (Anonymous)
★★★★★
I had a fantastic experience with Brett from Bradshaw Concrete Design's. From start to finish, his team were professional, efficient, and skilled in their craft. The transformation they achieved on our concrete surfaces was truly remarkable – they turned our freshly poured floors into glossy, pristine ones that are not only aesthetically pleasing but also easy to maintain. The attention to detail and the commitment to delivering a high-quality result were evident in every aspect of their work. I highly recommend this company to anyone seeking top-notch concrete polishing services. Their expertise and dedication are second to none, and I couldn't be happier with the results they delivered.
Balaji Sasidharan
★★★★★
My driveway was showing signs of cracks and I looked up to a few people to elaborate on what can be done to get it fixed. He is good at responding to messages via online channels or via phone. I requested a quote on his website. He reached out to me with details and arranged a time for inspection.I went with Brett as he patiently explained what needs to be done, why it should be done, and what it would look like once he finishes it.I found him very punctual, committed, and professional. He turned up at 7 AM on both days, one of them being Australia Day. It was pretty warm but he was fully focused on completing the work.He was following up on something that I talked about with him 2-3 months back and that really showed he care.I will highly recommend him for incredible standards of quality workmanship. He is a good conversationalist too.
Evocative Ink
★★★★★
Brett did an awesome job polishing our new concrete floor.Brett's attention to detail and friendly service is second to none.We would highly recommend Bradshaw Concrete Designs to anyone considering polished concrete floors in their build/renovation.Thanks again Brett
Tara Haskell
★★★★★
Awesome concrete floor we had polished to perfection! Very happy with results and Bradshaw concrete designs for their work and professionalism. Will use again and highly recommend.
Haydn Woelfel
★★★★★
Very professional service and top quality finish.Bradshaw Concrete van did the work required and left the area clean and tidy, no mess no fuss. We are really happy with our new concrete finish, it's fantastic.Thanks Brett for a job well done 👍🏿
Tim Lojszczyk
★★★★★
From the beginning, Brett's communication was fantastic. The job was booked in and we were always kept updated with timings and what the process looked like.The work completed by Brett was 10/10!He's a true professional and trustworthy.We were so impressed with his workmanship and professionalism, we are telling our friends to look no further Brett!
Geoff Heath
★★★★★
Brett was great to deal with. He did a great job and turned up when he said he was. Would highly recommend this business
Kate Bosworth
★★★★★
Bradshaw concreting was professional and helpful from the get go. Clearly very skilled and knowledgeable, patient and ready to discuss all aspects of the job at any time. His equipment was well maintained and his truck kitted out for all occasions. Brad communicated his progress throughout the job very well. I would have him back or recommend him in a heartbeat!Ours job isn't finished yet but we love how it's turned out so far! Pavilion finish.
Jocelyn Grant
★★★★★
Brett was fabulous from initial visit through to finished product. Highly recommend him.Quality and attention to detail was exceptional.
ian getley
★★★★★
I found Brett from Bradshaw Concrete Designs not only very professional and reliable he actually turned up when stated and did an excellent floor polishing on a 45 year old slab that had hidden the fact that it was comprised of Hawksbury River Aggregate, thus providing the many textures and colours in the final 3,000 grit cut.Being only a 26 sq Mtr area, two others quoted but never replied to my follow up so you could say I was impressed that Brett did reply, has all the appropriate equipment with large dust extractor system so no dust left on site and very little to clean up.
Hickey Wheeler
★★★★★
We used Bradshaw Concrete Designs for our office fitout. Brett managed to turn a tired old floor in to a work of art, and we are stoked with the result. We couldn't recommend Brett highly enough - professional, prompt and a great communicator.
Karen France
★★★★★
Brett transformed our existing rumpus room slab from an ugly mess into a beautiful work of art. If only all Tradespeople were like Brett. He obviously takes great pride in his career and business, is a professional through and through & an excellent communicator. Brett has previously worked in various aspects of the concrete industry for a long time, which means he really knows this product through and through. He is honest and his prices are very reasonable - especially considering the beautiful end result. Brett has all the powerful professional equipment to ensure that the job is done effectively and in a very timely manner, resulting in the least disruption to our lifestyle. Brett insisted on doing a test patch first so that we would have realistic expectations of what could be achieved. It was so refreshing to have clear and honest communication throughout the entire process, and within 3 days of hard work, the result is a beautiful concrete floor that has added considerable value to our lifestyle and home. If only you could be cloned Brett. Huge thanks. WE LOVE IT!
Jonathon Power
★★★★★
Brett did a fantastic job of our driveway. He kept us updated at each step and ensured that we were completely happy with the final product. I would highly recommend Brett for a great finished product.
warren laurence
★★★★★
The job involved grinding, etching and sealing 124sq metres of driveway.The old finish was stencil with a border with two layers of paint.Even with multiple days of rain the job was completed in a highly professional manner with great communication and feedback.The finish was better than expected . Damage to the lawn from the acid wash was a major concern however the impact proved to be minimal.What impressed me the most was the consistent level of the surface achieved with the grinding.I am considering extending the finish into the carport.
Kerry Barker
★★★★★
Absolutely love the work & end-result of the polished concrete in my apartment. The finish is lovely to walk on, consistently high quality throughout, easy to care for, and looks fantastic with the glossy finish.Brett was very professional & responsive from my initial query through to scheduling in time for a sample polished area, and the week-long work. The timeframes and work involved were explained well & everything ran to schedule - yes, even during the crazy time of renos in Darwin in mid 2020!I highly recommend the flooring & Brett's workmanship & professionalism.
Siena Napoli
★★★★★
Absolutely thrilled with our polished concrete floor. The end result is truly amazing. Bradshaw Concrete Design did an outstanding job throughout the entire process, displaying the utmost professionalism.From the beginning, Brett instilled complete confidence in us. He was thorough in explaining the details of what he required and took the time to discuss all possible outcomes we might face. His expertise and knowledge were evident, and we felt reassured knowing we were in capable hands.Brett's professionalism was exceptional. He consistently communicated with us, providing updates on the progress and addressing any questions or concerns we had. His reliability and commitment to customer satisfaction was outstanding.Overall, our experience exceeded our expectations. We couldn't be happier with the outcome of our polished concrete floor. If you're looking for a highly skilled professional who provides top-notch service and delivers outstanding results, we highly recommend Brett and Bradshaw Concrete Design.
Melissa Hillier
★★★★★
We love the pavilion finish on our verandah and pool surrounds. Brett answered our questions and showed up on time. Not only does it look fantastic it is smooth to walk on. Brett was very professional, reliable, tidy and cleaned up after the job was complete. Highly recommend him and the work he does. Thank you Brett and team.
Jeremy Taylor
★★★★★
Brett was great to deal with, professional and helpful advice. Very happy with the concrete finish. Highly recommended
sean wright
★★★★★
Brett's professionality is second to none, his expertise is amazing which helped us immensely as we had never done Honed Concrete before and we had been let down by other contractors. The pavilion finish around our pool is unreal and has really set the area as a feature, I would hire Brett again to do our other areas.
shaira santos
★★★★★
Brett & Alicia we're both very helpful & prompt from start to finish. They have made the whole process very seamless & stress free.We are really happy with our new alfresco!Would highly recommend Bradshaw concrete designs.You guys are amazing! Thanks again 😊